The mouthpieces are machined from an acetal homopolymer. Here the 20mm bar has been turned to 16mm to suit the blowing iron tube bore and the O ring groove has been cut. The next operation is to chamfer the end. The bar is then moved out so material for the next mouthpiece is ready and the current one is parted off leaving about 31mm for shaping.

The form tool in action. The mouthpiece is held in a collet to provide maximum rigidity when using the 30mm wide form tool to cut the mouthpiece shape.
The form tool is made from AISI type 01 tool steel and hardened and tempered. Shaping the form tool was done using a bandsaw to get to the rough shape which was then milled close to the final form. Next it was filed and a hand stone used for final sharpening after heat treatment.
The last operation was to drill through Ø4.5mm.

The completed mouthpiece assembled with O ring.

Step 1. The blowing iron head will be formed from a piece of Ø25mm x 150mm 310 stainless steel bar. This alloy was chosen for its strength and resistance to scaling at high temperature.

Step 2. Drilling the through hole. Due to the length the through was drilled from both ends.

Step 3. Turning to Ø16mm the section which fits into the blowing iron tube.

Step 4. As this is to be a tapered head blowing iron the straight section was turned next to Ø20mm to suit the blowing iron tube outer diameter.


Step 5. The taper is turned next leaving a short straight length at the end for the radius.

Step 6. The head radius is added.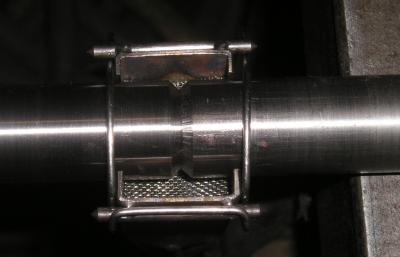 After chamfering the weld area the head is pressed into the Ø20mm x 2mm wall 316 stainless steel tube and is ready to be welded. Shown here ready for welding with the back purge rig fitted.

After welding was complete the excess weld bead was turned off and the weld area cleaned up with a file.

Mouthpiece fitted and the blowing iron is ready for use.

An assortment of blowing irons made recently. January 2017.