A couple of Ivan Smith jacks I have recently been asked to refurbish. These jacks exhibit the normal wear evident after years of use doing the same thing with the significant wear evident near the tips. I started doing this procedure on some similarly worn Jim Moore jacks a few years ago and word seems to be getting around that they can be repaired.
The procedure is basically to build the worn edge of the jack blade back to its original level by TIG welding using O1 tool steel as a filler rod as it's readily available and near the composition of the original blade. Firstly a template is taken of the back of the blade which will later be used as a reference when straightening it. The welding does result in some distortion of the blade due to contraction stresses in the weld but this is then straightened leaving the jack geometry as before. Once the blade is straight it is then dressed back to the original profile leaving it as the original maker intended it.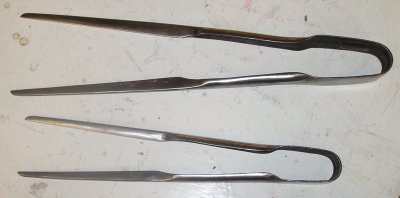 A shot of the completed repaired jacks at the owners studio as I forgot to take a photo at the workshop when they were done.