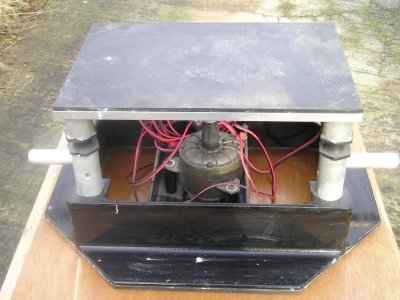 A small vibratory table I made to assist in casting of various items, mostly refractory castables associated with glass blowing equipment.
The top surface is 260mm by 395mm because that was the size of the aluminium plate I had.

The motor is the electric fan motor from a Lancia Beta Volumex, although other cars use the same or similar. It had been taking up space for about a decade, but now in the vibratory table, is earning its keep away from the Lancia.
Power is supplied by a standard 12V car battery.

The motor is mounted on the base and connected to the eccentric mass, fitted to the underside of the table, via a section of rubber tube to allow for movement.
The eccentric mass shaft is supported by two sealed ball bearings contained in the upper housing.
The isolation rubbers used between the top and base were chosen from a local automotive parts supplier and are exhaust support mounts.
The first cast done was for this gathering port for a local glassblower. The total weight of castable used was approximately 37kg.

A useful addition to the vibratory table is a variable speed controller. This allows the vibration frequency of the table to be adjusted to suit the material being placed.